BRAVEHEART HEROES, WILLIAM WALLACE AND ANDREW DE MORAY, FINALLY HONOURED AT STIRLING BRIDGE BATTLE SITE AS SALTIRE RAISED FOR FIRST TIME IN OVER 700 YEARS

Friday 29th May, 2015


It's taken more than 700 years but today, the two heroes at the centre of one of the most important battles in Scottish history have been jointly honoured at the spot where they both led an outnumbered Scottish army to victory against the English.

The formal unveiling ceremony at Stirling Bridge today, of three lecterns made of traditional Scottish whinstone dedicated to the memory of William Wallace and Andrew de Moray, at the site of the historic victory at Battle of Stirling Bridge.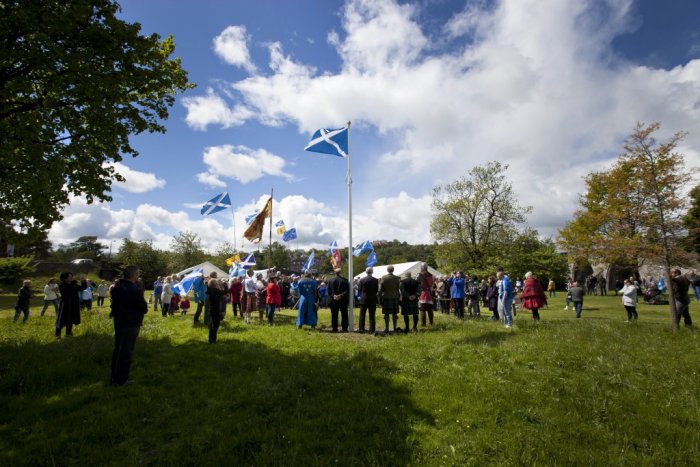 The crowd gathered at the Bridge
At a special ceremony attended by Andrew de Moray's direct descendant, the Earl of Moray, and Stewart Maxwell, MSP, convener of the Scottish Parliament's Education and Culture Committee, the memorials were formally unveiled. Mr Maxwell opened the event and after the dedication, together with the Earl of Moray, they raised the Saltire together at the site of the Battle of Stirling Bridge. This is the first time in over 700 years that the Saltire has flown at Stirling Bridge. The flag will now become a permanent fixture at the site of the Battle.

John Stuart, the current Earl of Moray, said of his illustrious kinsman: "I am delighted that Andrew de Moray is finally, after 700 years, to have the recognition he deserves. The Guardians of Scotland have put a huge amount of time and effort into the lecterns, which are a very fitting tribute to one of Scotland's greatest patriots."

The victory represented a key moment in the Scottish Wars of Independence. Eminent Scots historian, Sir Tom Devine, recently described the battle as being "second in importance only to Bannockburn in the Wars of Independence".

This is the first time that the two men have been given equal prominence. One stone tells the story of Andrew de Moray, while the second describes Wallace's role. The third lectern gives the story of the battle.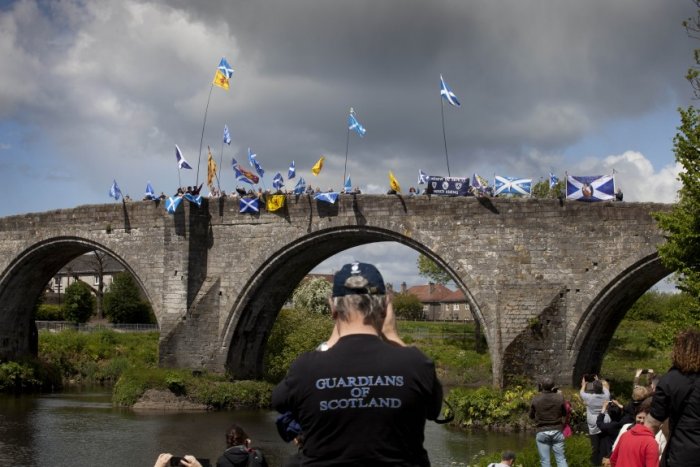 Saltires on the Bridge